Equipment for the automotive training courses

         Products intended for :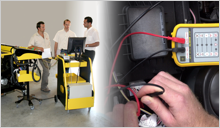 Car Makers' Training Centres
               Mechanic School
               Maintenance & Repair Schools


An important player in the automotive repair and maintenance, EXXOTEST ® designs and manufactures a range of educational products that meet the needs and demands of training courses: Builders, Vocational Training Centres, National Education ... 

The work and relationship of Research and Development staff with leading European manufacturers and suppliers allow EXXOTEST to offer front-end educational tools that are very efficient.

Our technical sales team with a strong presence at the national level, is at your disposal to host any demonstration of our product from the didactic range.
They will ensure the delivery, setup and monitoring of your next acquisition.

Feel free to contact us, we will be happy to answer your request and give you more information. 
---
Topics of products

ABS - ESP

Air conditioning systems

Battery Charge & Monitoring

Body & Electricity 

Data capture software 

Engine sets on a frame

Hybrid and Electric drives environment

Injection - Powertrain

Measurement & Diagnostic 

Multiplexing Network 

Running gear

Sensors&Actuators

STI 2D